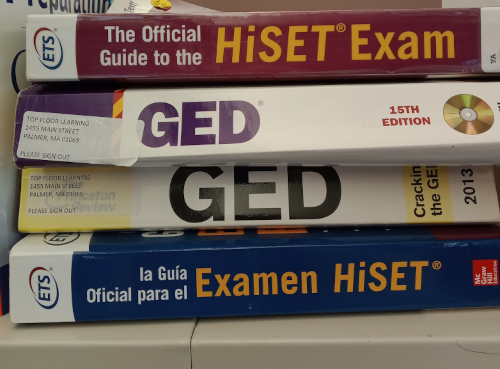 EXCITING NEWS! The Commonwealth of Massachusetts is now paying the HiSET and GED fees of all residents! Taking the tests is now FREE. Please click HERE for more information!
Massachusetts residents have two options to achieve their high school equivalency. We offer tutoring for both – the GED and HiSET tests. Students can arrange for a placement exam to assess what skills need improvement, and then will be matched with a tutor until both agree that the student can comfortably handle their HiSET or GED goals.
The placement test can be administered at Top Floor Learning, and is free. Please contact us to make an appointment.
What do the GED and HiSET test?
Both exams test language ability/writing, math, science, and social studies. There are computer and paper options for the HiSET while the GED is available only on computer. Both offer at-home testing options for Massachusetts residents. Please check out the Mass.Gov website for more information on requirements.